By default, Paid Memberships Pro will send members an email notice 7 days prior to their expiration date. The Extra Expiration Warning Emails Add On will automatically adjust this frequency to send notices at 30, 60, and 90 days prior to expiration.
This guide will show you how to modify the default notice intervals for your unique needs.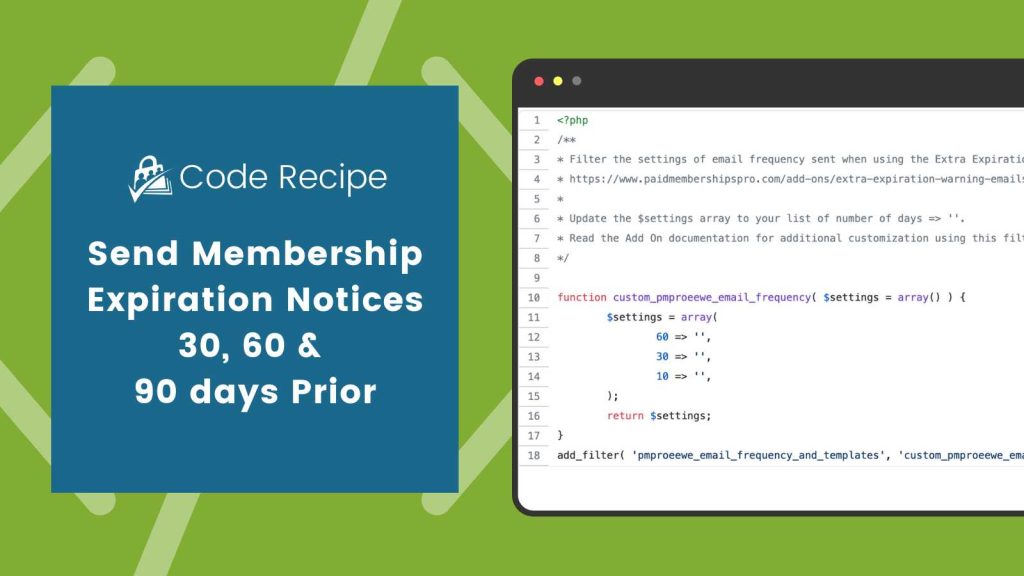 Customizing the Email Frequency
By default, the Add On will send emails at 90, 60, and 30 days prior to membership expiration. If you would like to send the notice at other intervals, you must use a custom filter for the pmproeewe_email_frequency_and_templates array. See the recipe below for an example:
Adding the Recipe to Your Website
You can add this recipe to your site by creating a custom plugin or using the Code Snippets plugin available for free in the WordPress repository. Read this companion article for step-by-step directions on either method.
Adjust the $settings array on lines 11-15 for your custom intervals.
For more information about this Add On and included filters, read the documentation page here.
Was this article helpful?