Membership site owners can take advantage of November's sales events to launch their marketing campaigns and attract new members. In this article, we have highlighted the 5 BFCM tips for membership site owners to consider before embracing the biggest sales season of the year.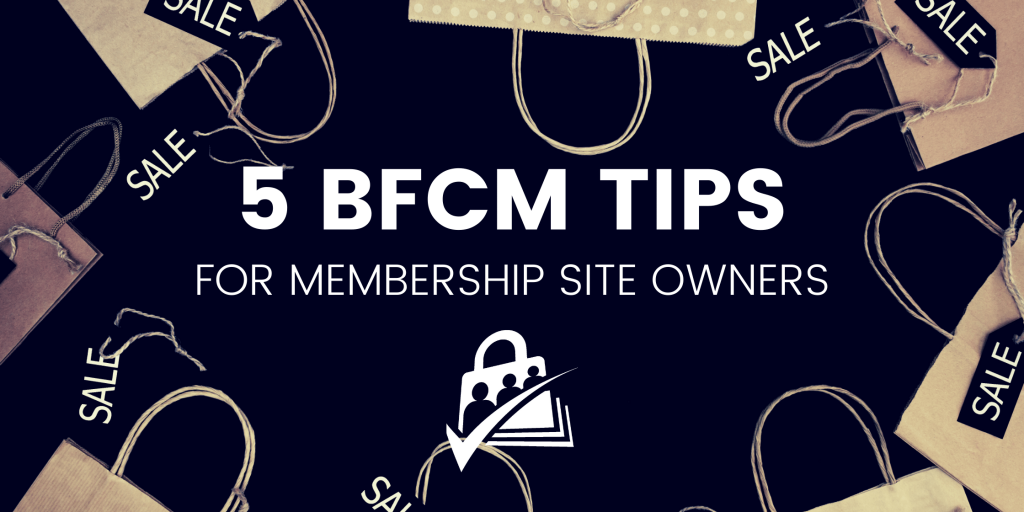 BFCM TIPS
Black Friday Cyber Monday (BFCM) is one of the highest anticipated sales holidays, and getting yourself ready before this extended period could boost your chances of success. We made a list of the most important tips that not only help our own sites' sales but can benefit others running sales on their membership sites this November.
1. Should You Participate?
There are several reasons to participate in BFCM sales, just as there are reasons not to. Underpricing your membership offerings through crazy discounts can be a great way to attract new members. However, sometimes this strategy fails due to several factors. This can include too much competition, where the few sales you'll make can drive the business into losses and the cost of running sales is more than the revenue generated.
That said, BFCM sales are in itself a marketing technique. Using the hugely discounted prices to attract prospective members, you can win customers who will see value in their subscription and become lifetime members. While this is a good thing, sometimes you have to be mindful of who you are attracting and whether the new members will add value to the community.
If you're going to participate in the BFCM sales, you need to come up with discounted offers that make the most sense. As a rule of thumb, target somewhere between 20-25% off. We covered more on how to choose the perfect discounts in our BFCM FAQs.
---
2. Avoid misleading price representations
Transparency and honesty matter the most if you're looking to build a long-lasting member relationship. Based on the discounts offered, it's best to accurately indicate the offer price and let customers see the amount they are saving.
Strike-through pricing tactic is a common sales technique during each BFCM sale; however, you should avoid exaggerated savings claims. Trying too hard to market your membership by exaggerating the extent of savings isn't worth the risk. Both your prospects and the current members will see a desperate, gullible, and untrustworthy side of you.
---
3. If you can't compete, dominate
The cost of running BFCM sales and competition level in the market will largely determine your overall BFCM sales performance. If, for example, you offer a 50% discount on a membership package that costs twice as much to get to market, you'll need two paying members to break even.
In this particular situation, if several other competitors are offering the same discount, you can choose to push the envelope and dominate the market. Instead of competing for the same customers, shift your focus and create a new product with a better offer. Like a discounted lifetime membership subscription plan instead of discounted monthly membership subscriptions.
You just have to study your competitors and settle on a package that's not already offered in the market. We also created a BFCM sales calculator to help you make the right estimates and adjustments to meet your goals.
---
4. Prepare, not plan for success.
Not many people will put their money where they don't see an obvious return on investment. For example, it could seem unnecessary to increase support staff to help you deal with the increase in new members during the sale.
Preparing for success goes beyond planning to actually execute the critical ideas that will better get you ready to succeed. This includes doubling-up on resources and having contingency plans in case of emergencies. For instance, don't wait until the BFCM weekend to inform your web hosting provider of expected high website traffic.
---
5. Don't forget your current customers
During the BFCM sales period, your current customers will probably see the discounted offers. This could make them feel left out especially if they purchased a membership recent to the sale season. You could consider offering some discount or added benefit if they ask for it. While you are the one to decide who qualifies to use the offer price, get ready to make some exceptions during queries and even complaints from members.
We discussed how to handle upset customers and other important tips for running a successful BFCM campaign in this article.
For more insightful topics on planning and running profitable membership sales, refer to our detailed BFCM step-by-step guide and FAQs.
---