---
Reconciling Missing Subscribers
If you suspect that you've missed some list signups due to this bug, you can use the export CSV feature of the plugin to generate files to import your members into MailChimp.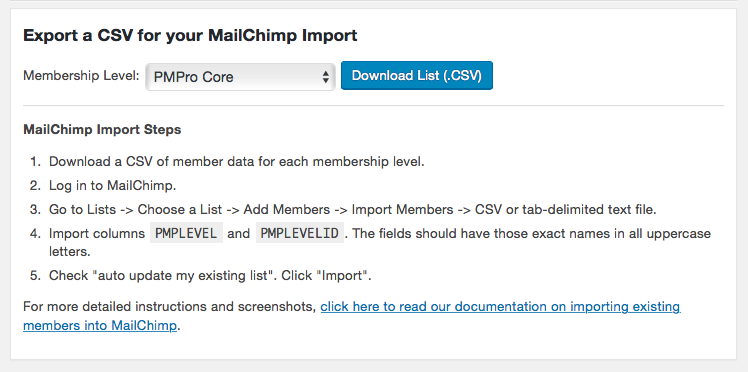 When you import the CSVs, it will not duplicate users already on your lists and will not subscribe anyone who has since unsubscribed through MailChimp.
We have a guide for exporting subscriber lists by membership level and importing them into MailChimp.
View the Export/Import Guide for MailChimp
---
Support for Localication and Multiple Memberships Per User
In addition to fixing this subscription bug and a few others, we've added localization support to the plugin. This means that the community can now contribute a MailChimp Integration translation via the GlotPress.
We've also updated the add on to ensure compatibility with the PMPro Multiple Memberships Per User Add On, which we'll be sharing more info about soon.
---
The full list of updates is below.
BUG: Fixed a variety of bugs related to the MailChimp API, including a bug introduced in v2.0.3 that sometimes kept the plugin from subscribing users to lists.
BUG/ENHANCEMENT: Doing a better job of limiting the number of API requests made to avoid API limits.
ENHANCEMENT: Supports the pmpro-multiple-memberships-per-user Add On.
ENHANCEMENT: Added localization support. (Now should be able to create language files via GlotPress)