Are you navigating the path to becoming a recognized thought leader in your industry? With a wealth of knowledge tucked away in your brain, you might be wondering how to build a thought leader strategy around that expertise.
Perhaps you're a consultant currently offering one-on-one coaching engagements, hoping to broaden your impact through online courses or membership sites.
This guide details a winning strategy that lets you earn money from your thought leadership—without sponsorships, speaking engagements, or guest appearances. We built this three-part strategy over our 12+ years of experience working with emerging industry leaders, just like you.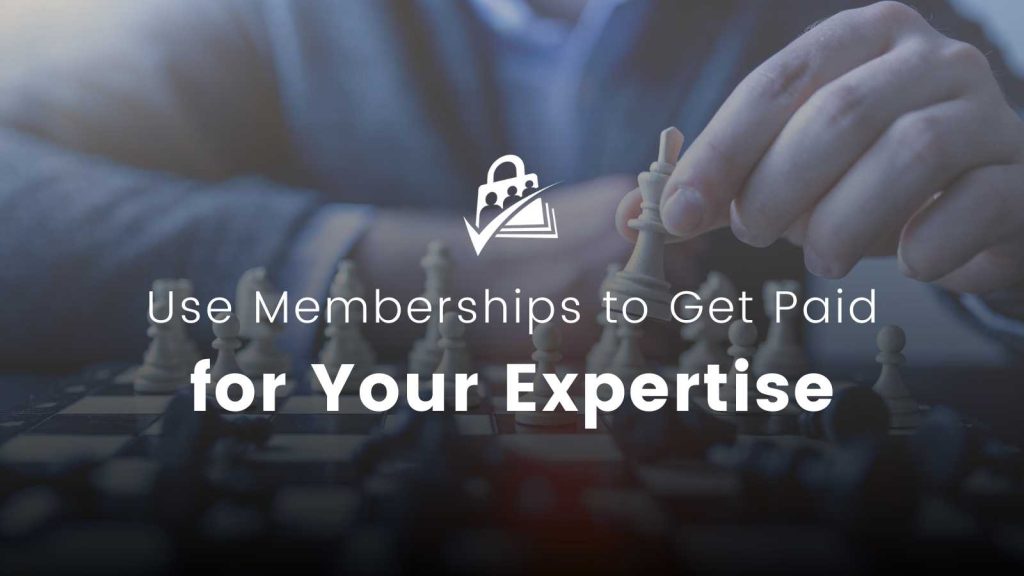 Understand the Thought Leader Sales Funnel
A sales funnel is a customer acquisition model. Potential customers enter at the top of the funnel, and paying customers come out the bottom. The concept dates back to the late 19th century with the AIDA model. There are many variations on the sales funnel. Which variation you choose doesn't matter as much as sticking to one and using it to focus your efforts as you work to acquire paying members.
Here is a simple sales funnel that works extremely well for thought leaders building a membership site with WordPress.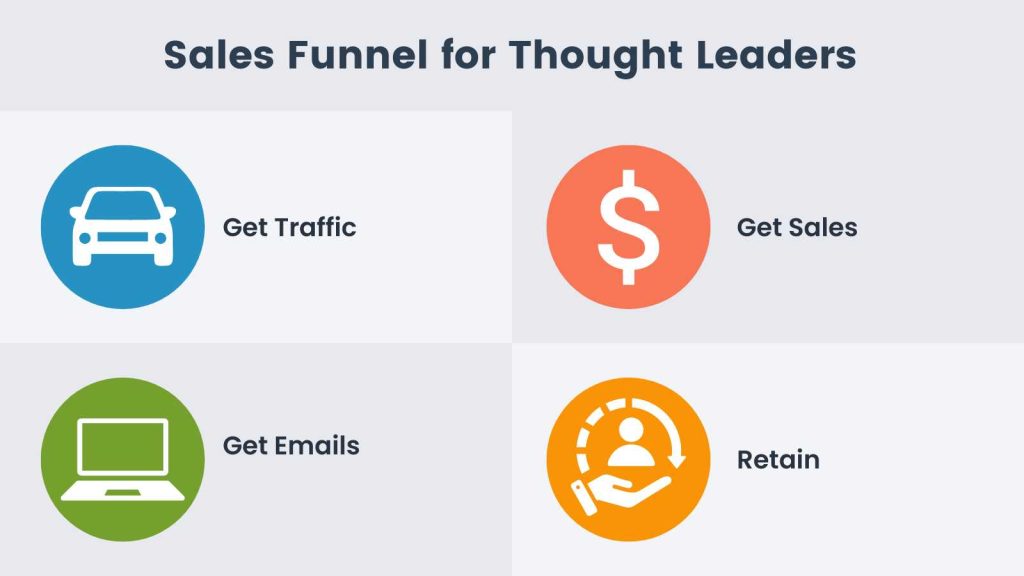 The funnel starts with visitors to your site. Some of those visitors will join your mailing list. Some of those list members will become paying members. Finally some of those members will continue to pay monthly, annually, or will up-sell into high cost products.
The 3 key areas of thought leader strategy we highlight in this article map to the top 3 levels of this sales funnel.
In the beginning, you'll want to work on your funnel from the top down.
There's no point in working on a retention strategy if you don't have customers.
And there's no point in working on your conversion strategies if you don't have visitors coming into the top of your funnel.
Later on, when your funnel is running more or less smoothly, you can analyze the metrics for each level in the funnel to figure out where to most effectively spend your time. Start with a focus on getting visitors to your site—the best way to get visitors is to create lots and lots of high quality content.
Phase 1: Focus on the (free) content.
The center of any system to build an audience and convert paying members has to be lots and lots of high quality content. You've probably heard this advice before. You're going to hear it from us again and hopefully it will stick.
We put "get traffic" at the top of our sales funnel diagram and maybe you're hoping to get some tips for marketing on social media or running ads to generate traffic. The reality is that these types of marketing efforts are meaningless without quality content on the other end. Conversely, there are so many cases of people with incredible content and zero outside marketing building lucrative businesses and membership sites.
Let's break down a bit more what we mean by content.
1. Publish Lots and Lots of Free Content
Publish as much as possible. I don't know how many posts or videos you can produce per week, but produce as many as you can and make sure you are spending as much time as you can writing, recording, editing, and publishing.
Get your ideas written down or recorded. Don't focus too much on the technology—simple posts and videos will do to get started.
Churn out the content.
Organize it by concept (category) in a way that makes it easy for members to understand and learn, and THEN figure out how best to deliver it. You can always re-purpose your content later. In fact, you definitely should.
You can find all the technology you need to get started on your basic WordPress site. Navigate to the WordPress Admin > Posts > Add New. That's all.
2. Make Sure Your Free Content is High Quality
Focus on the medium you are best at. If you don't like the way you look on camera, write. Not comfortable writing? Try video. If you can't do either, consider audio-only.
If you can't do any of those, reconsider whether a thought leadership business is right for your. There has to be some way you can share your personality and your thoughts in a format your audience can consume.
Make sure your content is useful. Make sure there is a reason for your readers and viewers to come back for more.
Make sure your content answers real questions. It doesn't have to answer every question, but it should answer some questions.
Make sure your content solves real problems. It doesn't have to solve every problem, but it should solve some problems.
If possible, make content that only you can make. You can tackle popular issues and concepts that others are talking about, but make sure your version is better and uniquely you.
3. Give Away Your Best Content For Free
Make your best content free. Remember, you are using your content to get as many visitors to your site as possible. Don't hold back your best stuff. Your best content will build credibility, attract loyal readers, and encourage social sharing.
Check out Travis' article on how to improve your sales funnel and grow membership by giving something away for free if you want to explore this concept further.
Phase 2: Capture email addresses to build your mailing list.
It's particularly important for a thought leader-based membership site to capture the contact information of all their loyal readership. Your mailing list serves as a primary component of your sales funnel. Most of your early marketing, once your paid offering is launched, will go through this email list.
Email is still the best way to stay connected to your members.
Facebook, Twitter, and other social media outlets' algorithms don't guarantee that your posts will reach your followers. The only algorithm you need to worry about when sending email is the spam filter algorithm. Use a qualified email marketing platform, and follow their suggestions for avoiding spam filters.
Read our guide on setting up a landing page to capture email addresses »
This guide centers on using PMPro + MailChimp to offer a "premium" piece of content on your site for free in exchange for the visitor's contact information. As a training site, this premium content could be anything from a video to a download or just a Free level restricted post or page on your site.
Automate Your Email Newsletter
Once the mailing list is set up, you can begin thinking about how you want to communicate to your list. An automatic, RSS-based email newsletter takes some of the pain of newsletter creation out of your hands. You can use a third party hosted email platform like ConvertKit or Mailchimp, or consider using MailPoet, a built-into-WordPress plugin that handles email newsletters right in your site.
Let's face it, when you're just getting started, one of the most limiting factors of growth is time. While generated newsletters may not be the highest converting campaigns, it is a necessary choice if your schedule demands it. It's a painless way to keep your mailing list subscribers notified when new content is available.
If you are using another email marketing program, explore our email marketing integrations for the one that fits your needs.
Phase 3: Charge for access to your knowledge.
You did it. You've successful built an audience by creating loads of great, free content. Your email list provides a direct way to content and market to your loyal followers.
Now it's time to get paid.
1. Create an Info Product
Focus on developing the product itself before figuring out how to deliver it to your customers. Listen to your members as you develop products around your thought leader strategy.
At this point, you should have many visitors to your website (top of funnel) and a percentage of those visitors on your mailing list.
Read their emails and comments.
Find the forums and social media platforms they are on and talk to them.
Find their phone numbers and call them.
Find out where they are and go meet them.
Members will tell you what kind of content and in what formats they are willing to pay for, just listen.
Repurpose Content To Win
If you've been making lots and lots of high quality content, you may find that your product is all of that same content repurposed in a different format.
There are many ways to organize content on WordPress, from full blown courseware and learning management platforms to simple collections of posts and pages. Don't feel the need to get too clever when implementing this thought leader strategy.
What kinds of content do you pay for?
What format does that come in?
What are you good at creating?
Training, for example, can be delivered in many different formats.
For primarily text content: set up a series of well organized members-only posts or pages.
When training is more visual: build a 5-part video series you embed on your site and restrict for members-only.
If you offer PDFs or other downloads: Create a resources area that organizes the training documents in a specific sequence.
For collaborative or group training: Leverage community tools and charge for access to a members-only forum.
When training is best delivered via an Online Course: Create a robust, self-paced eLearning environment, complete with sections, lessons, quizzes, assignments and certificates.
2. Charge For Your Product
The final component of a winning thought leader strategy is getting paid.
Use a Membership Site as the Foundation
To get paid, you will need to settle on a membership plugin or some type of ecommerce solution. I'm partial to Paid Memberships Pro, but you should certainly do your research to find the best platform for your desired pricing and content delivery structure.
Your specific product and delivery plan should lead you in a particular direction with respect to what WordPress plugins and ecommerce solutions you'll want to use.
We have lots of content related to pricing and on designing a dashboard page for members. All of these articles will provide more support as you move into this next stage for your membership site.
Expand on Monetization Strategies
While the end goal of a thought leader strategy is to have a membership site full of paying members, it's equally helpful to explore additional monetization paths. These concepts extend on your membership site and, over time, help you build a more sustainable businesss.
Affiliate Marketing: One of the simplest ways to begin monetizing is through affiliate marketing. As a thought leader, you've built trust with your audience. When you recommend products, services, or tools that align with your expertise, you can earn a commission for every sale made through your referral link. Always ensure you choose affiliate partnerships that resonate with your brand and values.
Sponsored Content: Brands and businesses recognize the power of thought leaders and their reach. They might approach you for sponsored posts, webinars, or podcasts. While this is a lucrative avenue, it's vital to maintain transparency with your audience. Clearly indicate which content is sponsored and always ensure that the product or service you're endorsing aligns with your brand's ethos.
Collaborations: Collaborating with fellow thought leaders, industry experts, or businesses can be a win-win. Joint webinars, guest blog posts, or co-hosted events can not only help in expanding your reach but also in diversifying your content. It offers your audience a fresh perspective while establishing your position in the industry network.
Remember, monetization should be approached with a balance. While it's essential to capitalize on the hard work you've invested in building your brand and audience, always prioritize the trust and loyalty of your followers.
Their trust is the bedrock of your thought leader strategy, and it's crucial to nurture and uphold it.
Technology Recommendations for Thought Leadership Businesses
Here's a list of some of the technology we recommend for a Thought Leader or Subject Matter Expert WordPress site. This article was focused on helping you create, grow, and convert an audience for your knowledge, but you will certainly need to make some choices about what platform you use to create your site. If you reach out to us via the contact form we can provide more specific solutions that fit your site's model.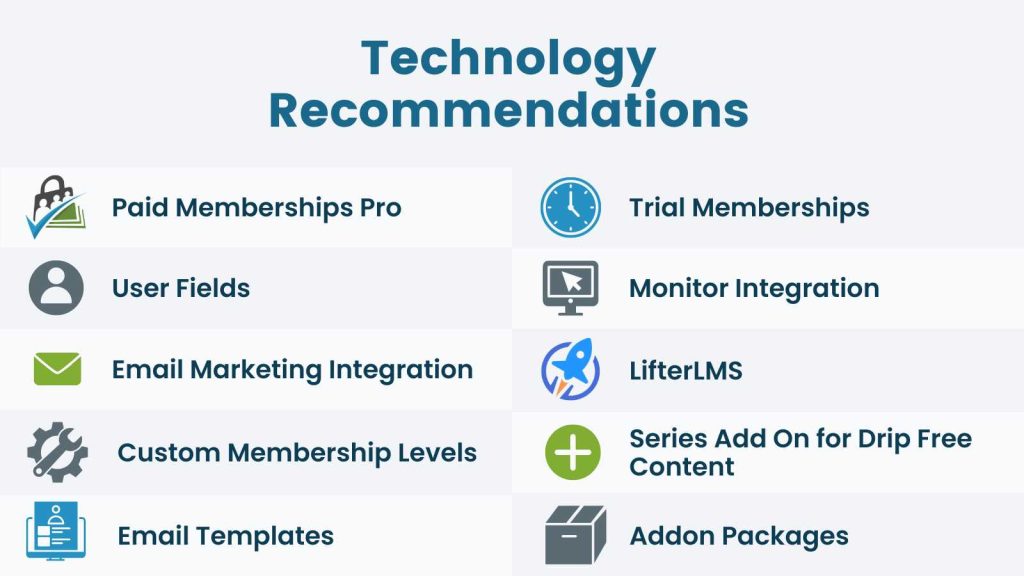 Driving Business Growth Through an Effective Thought Leader Strategy
A winning thought leadership strategy extends beyond merely having the expertise. It's about strategically leveraging that knowledge for growth, visibility, and monetization.
A well-crafted strategy, especially when combined with the capabilities of WordPress membership sites, offers a straightforward roadmap to spread your knowledge—and get paid for sharing it.
By focusing on creating quality content, building and nurturing an email list, and effectively monetizing your offerings, you lay down the foundation for a sustainable and influential digital presence. This presence will continue to evolve over time with new customer acquisition channels, new products, and maybe even new business partners.
Remember, the journey of becoming an industry voice can be a slow process. Stay adaptive, stay informed, and most importantly, stay authentic to your voice and mission.
Was this article helpful?